Increasing Reporting Requirements
The need to share up-to-date information with employees, customers, suppliers and other stakeholders is an increasing requirement in today's environment.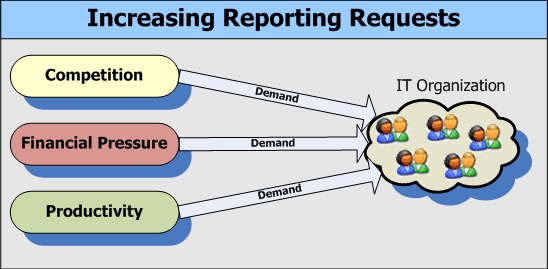 A number of factors are driving this increase in demand. Every company has new reporting requirements necessitated by changes in the competitive business environment in which we live. Increasing financial pressures to cut costs and increase revenues is a drivers. The demand for increased productivity from workers is a third reason often cited. The bottom line is that users at all levels need to leverage information to perform their tasks more efficiently and more effectively.
In most environments, technical staff fills these reporting requests adding little business value in the process. The need to involve these personnel creates inevitable backlogs, resulting in dissatisfaction among business users and continual pressure on the technical personnel.
Self-Serve Reporting
The answer to this problem is to provide end users with self-serve reporting. Self-serve reporting allows users to easily create their own reports and save them for repeated use. Companies have found this solution tremendously effective as business users are empowered with the ability to create the reports they need, while understaffed technical areas free up resources for other projects.
InfoSilk's self-serve reporting capabilities provide tremendous cost savings over the expensive to purchase, train and deploy costs of complex reporting solutions.
Summary
- Users continually need new reports to perform their business tasks
- Existing reporting tools are expensive to deploy and require extensive technical support
- InfoSilk's self-serve reporting capabilities put the business user in control of the process