Security
InfoSilk has numerous features, controlling who can view and update your data. User ID and password security control access to all applications. Users can be limited to read only access, prohibiting them for updating any data.
The next level of security restricts which functions and tables a user can access. Users can be grouped to facilitate the assigning of rights to users with similar data access needs. This security level also allows the controlling of which columns in a given table a user can access.
The third level of security is at the row level, limiting which rows of a table a user can access. Taken together, the security features of InfoSilk gives the organization full access control of their data.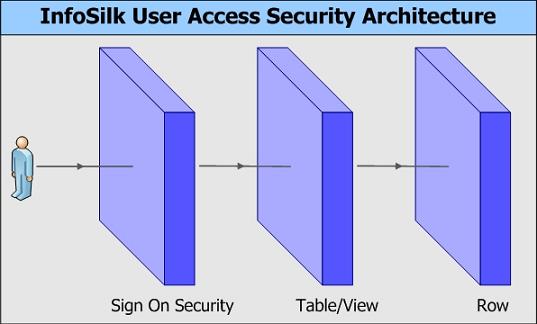 Monitoring
InfoSilk's monitoring facilities allow you to view every access for every user, so that you can see when and from where your application is being used.
Elapsed time data allows you to see which functions are taking the most time, so you can tune your database to meet your performance requirements.
Function and view monitoring inform you of the degree to which the various pieces of your application are being used. Error message reporting informs you of which application sections users are having difficulty with, enabling proactivity in your application support.