The New Reality
For much of Enterprise Computing's history projects took a minimum of six months to a year from conception to deployment regardless of their complexity. The analysis, design, coding, testing and acceptance phases needed to be performed and they all took time.
In the IT environment of today, the reality has changed and business users are expecting results in one to three months.
Three significant factors for this change are
- New Software Development Methodologies
- Consumer IT
- The Drive Towards Simplicity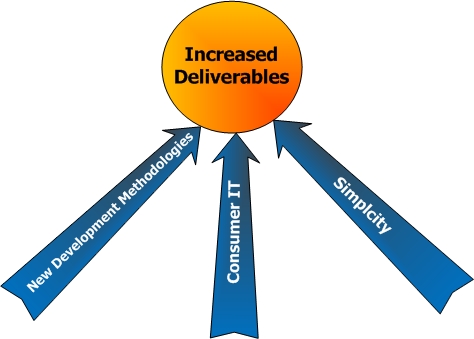 New Software Development Methodologies
New software development methodologies are replacing the traditional analysis, design, coding, testing and acceptance phases with one of discuss, deliver and refine. In these methodologies, such as Agile Software Development, the highest priority is to satisfy the customer through early and continues deliver of valuable software. This development methodology reduces risk by shortening the time to deliverable and by recognizing that software that is seen and refined is most likely to produce the best results.
Consumer IT
Consumer IT refers to the growing practice of introducing new technologies into consumer markets prior to industrial markets. According to Gartner, Inc. this will be the most significant trend affecting information technology (IT) during the next 10 years. As a result, the majority of new technologies enterprises adopt for their information systems between 2007 and 2012 will have roots in consumer applications.
The significance of this is that IT departments must deliver because user expectations are being raised by what they see in the consumer markets.
The Drive Towards Simplicity
Many applications are complex by nature and can not be simplified. But Web-based applications have introduced simplicity in many areas of IT. The standard Web-based application is significantly simpler than the Windows based application that it replaced.
Simple solutions are perceived to be easier to develop and thus they create an increase pressure to deliver more with less complexity.
InfoSilk Addresses the New Reality
InfoSilk addresses the new reality of the demand for more deliverables. With an amazingly short time-to-market, InfoSilk will help you meet the demand for continuous short-schedule deliverables. In addition to satisfying user needs, faster deliverables greatly reduce projects and increase your project success rate.