Selected Customer Success Stories

Morgan Stanley



Morgan Stanley, a major investment bank/brokerage firm is using InfoSilk as the front end to their Data Warehouse. This area is responsible for providing the systems to the groups that support the over 60,000 computers in the company.
The company uses Peregrine from HP to manage their computing assets and provide help desk support functions. They needed to supplement Peregrine's reporting.
The company had their Data Base Administrators build a data warehouse where they extracted and summarized data from the operational systems using SQL procedures and stored the data in the warehouse database. They chose InfoSilk to provide their reporting needs from the warehouse.
InfoSilk enables the end users to easily access the close to 300 tables in the warehouse. There are currently close to 6000 users accessing the warehouse.
The power of self-serve reporting is very evident here. The end users have created over 10,000 customized views for individual and shared usage. The ability for the end users to solve their own needs has reduced the burden on the technical staff and has actually enabled to provide better service in the face of declining budgets. The company has migrated, wherever possible, every report built with products such as Crystal Reports to InfoSilk server to lower their support costs.
This customer also makes extensive use of auto emailing. Thousands of employees across the company receive emails on a daily, weekly or monthly basis from the InfoSilk Server, providing them with the information they need from the warehouse.
By eliminating the task intensive front-end Web development they have been able to roll out tens of applications in extremely short time frames. The department leveraging InfoSilk has developed a company wide sterling reputation of getting things done. This has led other departments towards purchasing InfoSilk to provide their reporting needs.
Con Edison



Con ED turned to InfoSilk for it's Ad-Hoc query functionality and data entry capability.
One business area used both the Ad-Hoc query features as well as the powerful data entry capabilities to perform critical month-end reconciliations. This saved them from building Applications for data entry in other more complicated tools such as .net from Microsoft.
InfoSilk was also used in a CAD/CAM design application for Ad-Hoc query capabilities. Designers use InfoSilk to work interactively with their designs, creating their own custom views and saving them for future use. When they want to edit a particular design, they simply click on the link.

Wachovia Bank



Wachovia was looking to build a ad-hoc query front end for a number of data warehouses. They had budgeted about $800,000 for the effort when the were introduced to InfoSilk. They immediately realized that they could never build a product with the functions and features of InfoSilk and InfoSilk was priced at a fraction of the priced.
In addition to the great interface, Wachovia was sold on how simple it is to roll out new ad-hoc query applications using InfoSilk. In less that an hour tens of reports are built and immediately functional. The project responsible for InfoSilk is now field many requests to roll InfoSilk into other areas of the firm.
JND Limited – A Direct Marketing Firm



A $40 million direct marketing firm needed to replace their aging legacy application to support their Merchandising, Sales, Promotions and Operations areas.
To edit and update the 100+ supporting tables in the system, the company is using InfoSilk. This has saved a tremendous amount of time and development cost as no programming was required to provide this functionality. In addition the consistency and ease of use and zero training required made the roll out of the system a breeze.
The company also uses InfoSilk for the inquiry and reporting portions of the system. This allows them to satisfy their own reporting needs, which is very important consideration the very small size of their technical support staff.
This company needed to have specific business logic written for their application for functions such as forecasting and name segmentation for promotional mailings. This logic was custom coded and InfoSilk provides a framework to easily integrate such code. By automating the table update and reporting development the developer was able to focus on this business logic, which provides the most value for this company.
InfoGrasp – School Management – SAAS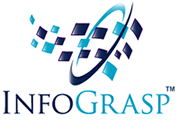 A number of private schools and non profit institutions are using hosted Infosilk applications to handle all the aspects of managing their institutions.
The functions utilized include student records, class scheduling, testing, accounting, food production and fund raising.
The ease of use and the zero training has made it easy to roll these applications out in institutions with lower degrees of computational sophistication.
The breadth of the functionality as a result of using the Infosilk server has made these applications standouts in their markets.